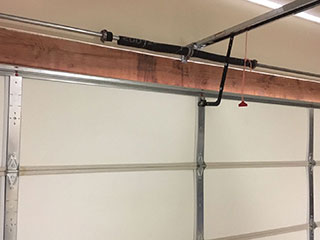 There are a number of moving parts responsible for the opening and closing of your garage door. None are more important than the springs. Without these components handling the door's weight and size, manually lifting and shutting your garage door would be a feat.
Vital Yet Potentially Hazardous
As vital as these components are, springs have the potential to be hazardous. The everyday operation of opening and closing your door puts the springs under incredible tension, and improper handling may cause them to malfunction. This eventuality is something to be avoided at all cost. There is a very real risk of injury, which is exactly why you need professionals with the right equipment. Trying to DIY replacement or maintenance of garage door springs is therefore not a good idea.
How Does Your Door Move?
Ever wondered what types of springs are doing the job on your garage door? There are two different types. If you see an elongated unit mounted above the door running along its width, then you have torsion springs. If your garage door runs on an overhead rail and has horizontal springs on either side, then these are extension springs. You may also notice that this system uses safety cables in case the spring should break and flail around. Check tension springs regularly to ensure they are in good working condition.
Leave It To The Experts
Something as straightforward as lubing your garage door springs is a simple matter, but if you want to stay out of harm's way, anything beyond should always be left to the experts. The technicians at Garage Door Repair Longmont are just a quick call away and our team is at your service for all adjustment or replacement spring problems. Scheduling an appointment is easy, contact us today.
We also offer the following:

Part Replacement & Lubrication

Automatic Door Opener Replacement

Door Opener Troubleshooting Services

Broken Garage Door Spring Replacement