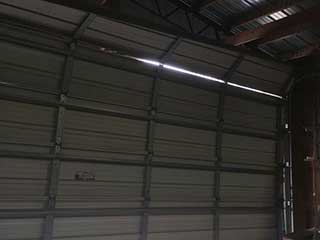 Your garage door works tirelessly day after day to allow you to come in and out easily and tend to your busy schedule. However, over time thanks to wear and tear, it's not uncommon for it to require some repairs to continue working properly. That's where our professionals come in!
Expert Spring Replacement
The springs are one of the most important components of your garage door. It's heavier than it may seem and requires a lot of force to lift it when you need to leave, which is what the springs provide. This is why it tends to be noticeable when something's wrong with them, as you'll find that your door struggles to open properly, if it can move at all. DIY is particularly dangerous with them as well! The springs are directly connected to the weight of the door, meaning one accidental move can cause it all to crash down. Rather than risk that, let our company handle things instead! Professional spring replacement means that no matter if you have torsion or extension springs, they'll be taken care of quickly and safely.
Thorough Opener Repairs
Your garage door opener will also get worn out over years of use, and this will be seen in problems such as your door reversing abruptly while closing, shuddering violently, or making a lot of noise as it moves. These issues should never be ignored, as your door will then struggle and wear out even more of its parts. This could lead to a complete breakdown, which is the last thing you need! Expert opener repair ensures that your opener will be tended to using the highest quality tools and parts. Our team will repair or replace any parts needed, from the motor to the circuit board, to get it working like a charm again for you right away.
Schedule An Appointment Today
Rather than hope that bad day in the making where your garage door refuses to budge never comes, make sure it won't! Our professionals can repair it all for you in no time. Just contact Garage Repair Longmont now to learn more.
You can also count on us for:

Cable Replacement

Torsion Spring Repair

Genie Garage Door Opener Services

Garage Door Extension Spring Installation